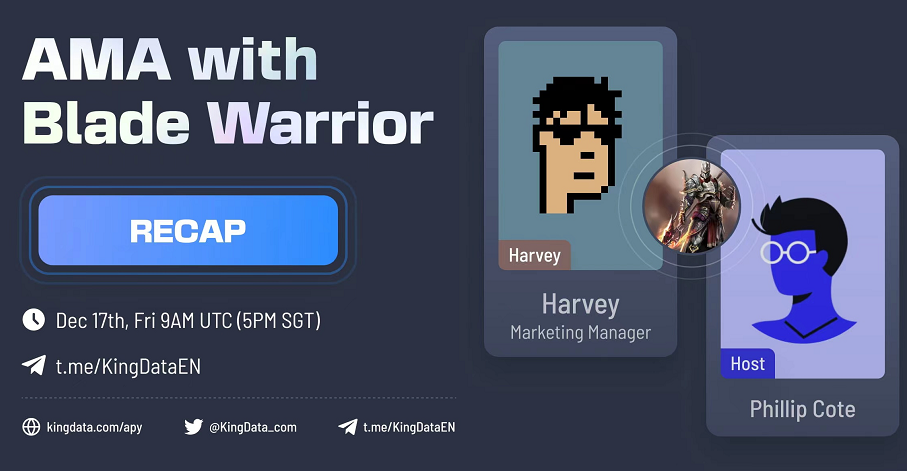 On December 17th, Fri 9 AM UTC (5PM SGT), we had an AMA session with Blade Warrior, in our Telegram chat at https://t.me/KingDataEN. Our guest was Harvey, the Marketing Manager of Blade Warrior.
Here are the essential points of the AMA session:
Introduction
Host[Zuk Kazafa]: Today we've invited our friends from BladeWarrior, our guest Harvey, Marketing Manager
Welcome to KingData!
Hi Harvey, great to have you here.
Could you kindly give the community a little introduction?
Guest [Harvey]: 
Sure! 
I'm Harvey, the MKT manager of Blade Warrior
I'm glad to be here at KingData today to talk to you about Blade!
Please feel free to ask me if you have any questions about Blade Warrior!
Main Part
Q1: As far as I know, Blade Warrior aims to be the NO.1 brand of blockchain games, could you tell us what are the advantages to support this aim?
A1:Our team comes from well-known international blockchain organizations and well-known 3A game listed companies, like Blizzard, we have successful project experience of more than 100 million users
Our vision is to advance the development of blockchain games by 10 years, and the goal is to be the No. 1 brand of blockchain games
It's hard to see a well-made, playable, Play2Earn game in the market, so we decided to make such a game
Our official version of the game just launched two weeks ago, and it's early phase in the game, so if you're interested, you can try to experience and play it
Our official website: https://www.blade.game/
Entrance of game: https://play.blade.game/
White paper: https://docs.blade.game/
BladeWarrior(EN)
Blade Warrior is an epic massively Play to Earn NFT blockchain game.
Q2: There are many gamefi projects flowing around. What makes BladeWarrior so special and could stand out from the crowd?
A2: First of all, DeFi broke out from October last year to March this year, NFT starting from March to now, and it has not yet reached the outbreak period.
Despite competition, it is still a blue ocean.
Secondly, OKEX is one of the top three exchanges. OEC is a new ecology. This ecology has just started. GameFi on this is even more scarce.
We have already occupied the first-mover advantage and established the first brand of user mind.
We think, in Phase 1.0, most P2E games only had Earn, without Play, and lack of playability
In Phase 2.0, it is necessary to have Earn and Play.
BladeWarrior is a combination of Play and Earn, allowing players to enjoy the beautiful quality of the game and at the same time earn quickly.
Q3: As far as i know there are 5 heroes in Blade Warrior, talk more about these heroes .
A3: Yes
There are 5 heroes in the game now, including 3 heroes and 2 heroines
I would like to introduce some of them
Let me show you how heroes…
the 1st one is Blade Lord
And the next 2 are heroines that designed for our partners: OEC and CherrySwap
This heroine is designed for the OEC, with blue style, very beautiful
Another one is designed for CherrySwap, with pink style
These two are very popular
The design of the heroes and the special effects of combat skills are very beautiful, and users like it very much!
Here is the link of promotional video:
https://www.youtube.com/watch?v=cME51t3MppE
We have an event to give a name for this new heroine on twitter. Name her, and you may take her home!
https://twitter.com/0xBladeGame/status/1470005522975715336
Q4: It is understood that in the world of Blade Warrior, there are various ways for gamers to earn revenue, could you share your revenue method?
A4: Sure
First of all, you can buy heroes and weapons on our official website or OKEx NFT marketplace. A hero can be equipped with one or two weapons
Once you have heroes and weapons, you can enter the map for battle
Fighting against monsters of different levels will drop a different number of EGGs. The factors affecting the number of dropped EGGs include the level of the monster, the level of the hero's weapon, and the combat power
In general, fighting against monsters with the same combat power will have the greatest benefit
Free map players can play 10 times a day, and there is also a paid map we called WonderLand
There are five monsters in WonderLand. Defeating them can get more EGG, which is about 2-5 times that of the free map
On top of that, we have ecomaps coming up, which will yield even more extra revenue
For the EGG generated by fighting monsters, we can buy pet boxes to open pets
Pet is an important NFT in Blade Warrior. Pets can be used for trading, mining, synthesizing more high-level pets or decomposing into Blade tokens. Pets can also support combat in the future
Pets of different colors have different mining speeds and values
There are six qualities of pet level: red, golden, purple, blue, green, and white
The red one is the highest level pet with a value of 10,000 Blade, the golden pet with a value of 2,000 Blade, the purple pet with a value of 550 Blade, the blue pet with a value of 120 Blade, and the green pet with a value of 40 Blade
Some players are very lucky. I saw the feedback in the community. Some players got golden pets as soon as the game was launched on the first day, and their payback cycle is very short. Some players can open purple and blue pets, which means that they can payback in 3 or 4 days
Over-the-counter NFT transactions are also very popular now. After the official launch, players traded their pet boxes and pet NFT by themselves. A pet box can sell for 50 USDT or more. If the buyers can open a blue or above pet, they will earn it
We are also considering developing an in-game NFT market currently, allowing players to trade freely in the game
After players have opened their pet boxes, they can mine. Because the game was launched two weeks ago, our APR is still very high, and most players are very happy to use pets for mining. This is what we encourage everyone to do
In general, the effect of earnings is great!
Q5: 
From your introduction I catch the info, Blade and EGG are the token of Blade Warrior
Can you tell us about the token economics in game? What are the differences between them and what are the functions of them?
A5: ​​Yes
We have well designed tokenomics in game
This is our economic model, you can see in detail
There will be some scenarios to produce Blade: PVP & PVE Battle, Daily Tasks, and Participating in Extreme Challenges. And there will be many scenarios to consume Blade: Buying NFTs, Upgrading & Synthesis, Pledging & Custody, and Rental
You can use Blade to buy NFT so that you can participate in the game. While battling, you will get EGGs as rewards. And EGGs can be bought in a Pet Box to get pets. Pets can be synthesize into a high-level pet, pet also can be decomposed into BLADE, or be exchanged on NFT marketplace, or be used for farming with good returns
There will be a variety of game-play methods in the game, such as EGGs, pets, gems, etc., but Blade is a hard currency, a rigid demand item in the game
Blade can only be produced in the game, such as defeating monsters and so on. It can also be used to buy land, and it can even be used to trade NFTs in the future
We also have a mining mechanism. We encourage players not to rush to sell the blade they have acquired, but to let the blade achieve more value in the game
In addition, we are also developing Blade staking and LP mining, which can also push up the price while ensuring the profit of the game
Q6: What are the current partners of BladeWarrior?
A6: Ecological partners are very important for a project. We have close ties with our partners in the market
The closest relationship is with OEC. From the launch of OEC, we built this game on it
And our NFT selling of heroes and weapons, as well as NFT auctions, are all on OKEx NFT marketplace
Otherwise, our partners includes Sota.finance, CherrySwap, JSwap, built connection with TokenPocket, Coin98, CoinHub, Mathwallet, ONTO and HyperPay, listed on CoinMarketCap, CoinGecko, FeiXiaoHao and MyToken
We are also listed by Coinbase last week, and we are the only one project which on the OEC that is listed by Coinbase currently
Q7: the game has been  launched
What are the plans for the future?
A7: As I mentioned just now, our game has been officially launched for two weeks, but this is only 20% of our entire project planning!
Players who have participated in the public beta of our game know that there are other features in our game, such as the flop game, by betting on Blade to win more Blades on the flop
Pet battle is also under development
NFT market is planned
Strengthening of heroes and weapons is planned
LP mining will be launched soon, and stake mining will also be tested after LP mining is launched
Also, we have already got investment from famous US institutions, and we plan to cross-chain this month, firstly to Iotex and then BSC
For more information, you can follow our social media
Join the Blade Warrior Discord Server!
Check out the Blade Warrior community on Discord - hang out with 13,971 other members and enjoy free voice and text chat.
Discord:https://discord.gg/2BdPDDDHct 
Twitter: https://twitter.com/0xBladeGame 
Telegram (Chinese): https://t.me/BladeGame 
Telegram (English): https://t.me/BladeGame_En 
Medium: https://bladegame.medium.com/ 
Weibo: https://weibo.com/bladewarrior 
Youtube: https://www.youtube.com/channel/UCkvO_1BpYJRHA6e0P6fk57w
Live Session
Q1:Dell magicman: Could you tell me a little bit about Your roadmap going forward? How do you plan onboarding users and gaining more adoption for Your project?
A1: You can find out the detail roadmap on our official website https://www.blade.game/?pos=roadmap and our white paper https://docs.blade.game/#roadmap.
BladeWarrior(EN)
Blade Warrior is an epic massively Play to Earn NFT blockchain game.
Q2: Mr Hernandez: What are the ways for your project to generate revenue in the long run? What is the progress of business development and what are some of your commercial partnerships?
A2: We can sell NFT(hero,weapon and lands,etc),and develop maps for partners. meanwhile the team reserved 5% token for future development.(it's locked for a long term , no worry about that) 
But the more important thing for us is to build the Blade brand rather than profit.
Q3: Sherrie Keith: Does your project support staking programs? If yes, how does your stake system work? What is the requirement for users, if they want to stake in your platform?
A3: Yes! As I mentioned just now. Our game has a mining mechanism.  
We encourage players not to rush to sell the blade they have acquired, but to let the blade achieve more value in the game.  
And we are also developing staking mining and LP mining, which can also push up the price while ensuring the profit of the game
Q4: MR RANDOM: Where can I currently buy Token?
A4: Currently Blade is listed on LBank Exchange: https://www.lbank.info/exchange/blade/usdt
Purchase address through CherrySwap on PC: https://www.cherryswap.net/#/swap
Or you can buy Blade through CherrySwap on DAPP Store in wallet
Q5: Deleted Account: What is the most ambitious goal of your project? Could share with us any Upcoming Updates?
A5: Well, a nice question.  
We want to be the Disney on chain, is that ambitious enough? Of course We have a long way to go, first we need to bring Blade to success, then we want to be steam on chain. Finally, we want to be chain-Disney. 
CHAIN IS BORN TO BE CROSS PLATFORM, AND NFT IS BORN TO BE CROSS CHAIN. 
BTW, we're all from famous international companies, we know how to build our strategy and ecosystem. From zero, Blade made a successful eco in OEC within a short term (1 month), which is the best proof. 
Remember, blade is not only a game, it's a brand, or an eco. 
We want GameFi projects to use our platform as much as possible!
Quick Quiz Part
Q1: Currently, how many heroines are there in the game?
A1: 2
Q2: What color is the highest level pet?
A2: Red
Q3: Which chain are we currently on?
A3: Oec
Q4: How many weapons can a hero be equipped with?
A4: One or two
Q5: How much is a top-level pet worth?
A5: 10K Blade
Airdrop Winners List
Link:
https://docs.google.com/spreadsheets/d/1SPfboBEYkQyfgJWXOhzHoS-5eDMZGgHm20jZ3_m1cEg
Official KingData links:
Website: https://www.kingdata.com
Twitter: https://twitter.com/KingData_com
Telegram: https://t.me/KingDataEN
TG Channel: https://t.me/KingData_News
Discord: https://dsc.gg/kingdata
Reddit: https://reddit.com/r/kingdata_com