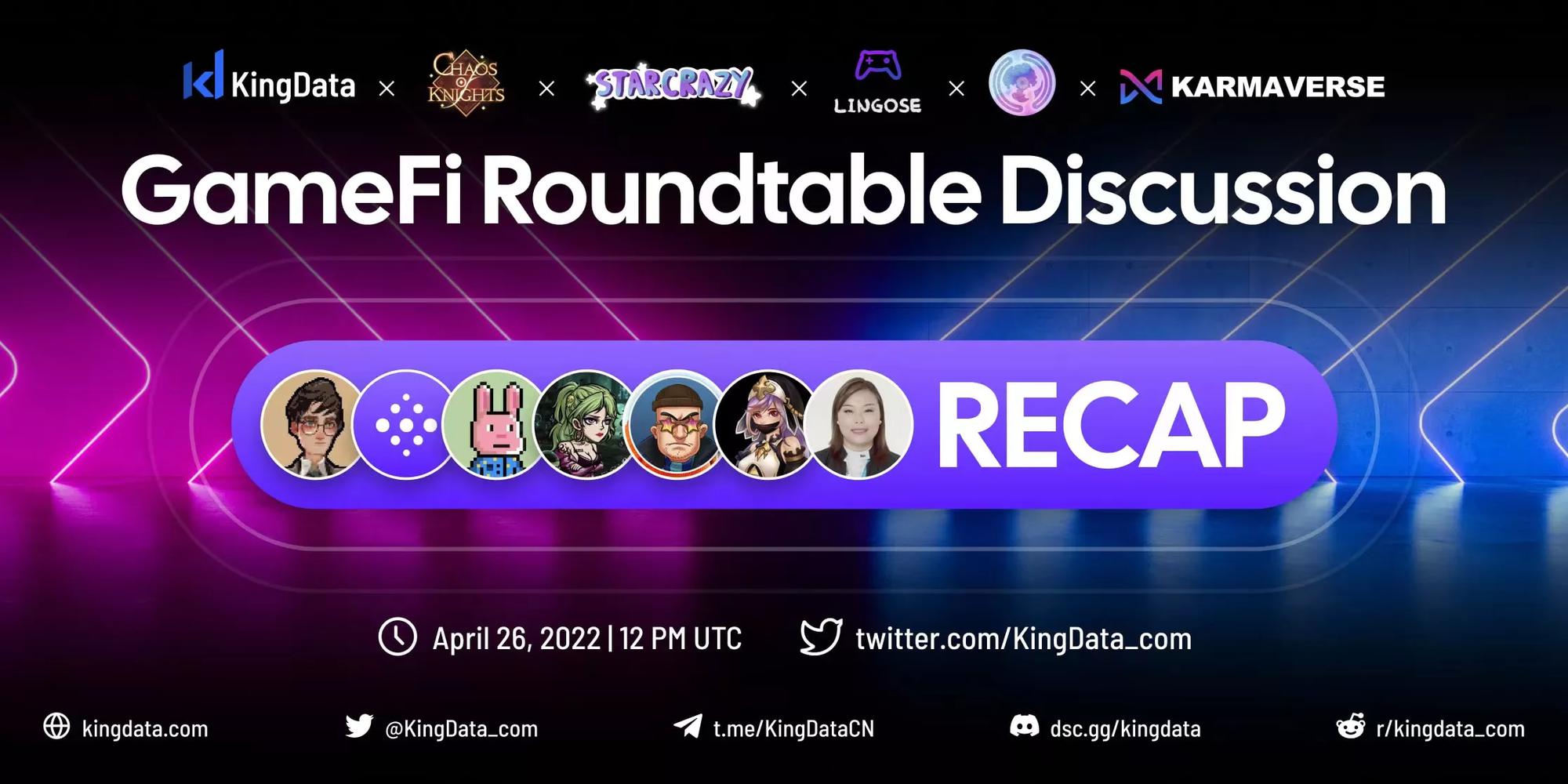 On April 26, 2022 12PM UTC (8PM UTC+8), we had a roundtable discussion with Lingose, Karmaverse, Chaos of Knights and StarCrazy, in our Twitter space at https://twitter.com/i/spaces/1mnxedXBmYrJX. Our guests were Yura, Scott Cheung, Anderson and Annaliza Chua.
Here are the essential points of the roundtable discussion session:
Introduction
Host[Richard]: Hi everyone, welcome to our GameFi Roundtable Discussion.Each project representative can introduce yourself & your project (2 - 5mins)
Guest[Anderson]: Hi Richard, My name is Anderson. I'm the community ambassador of Chaos of Knights. I'll give you some information to you.
Our potential here is generally ok. It's an adventure play-in game. Our players can immerse themselves in the material, soul, and magic. The gamefi is focusing on playing to earn. Your income depends on your skills. In the beginning, we want to develop height in the last game on the blockchain. You know, it's not easy and maybe makes players feel boring. So we relax the profit to gamefi and change the game element. We're still careful in-game character and quality. Ok, that's all.
Guest[Yura]: Hi, I'm Yura from operation team of Lingoes. Let me introduce Lingose firstly. Lingoes is a publish game ID system based on blockchain data and provides qualifications, and certificates by capturing user's behaviors on the chain. Every step and achievement on gamefi will be the users in betterment. And that builts their own web 3.0. In Lingose, we publish some campaigns, and users can complete the campaigns and experience the points and be exclusive activity of Lingose. Oh, that's all about Lingose, thanks.
Guest[Scott Cheung]: Karmaverse is here! Sorry I haven't login in your official account. I just login in your personal one. The Karmaverse is a metaverse containing the game worlds of all the games we have produced so far, and includes toolboxes for the community to build similar games on our platform. Players - known as Karmanauts - can use NFTs to transfer assets between games or sell them to other players.While the game worlds are united through our virtual network, and some characters may even grow in their parallel worlds which are in fact other games in the network, players will utilize NFTs to journey through the Karmaverse.
Guest[Annaliza]: Hello everyone Kingdata community. I am a partnerships leader Starcrazy marketing to talk about our crazy than to earn innovative game running in an block ting we launch last November twenty twenty-one and when I say its innovative we have players can earn in different ways we can bid for energy guards in options sell them in free markets we confuse card. And deploy them into the mine which also generates income we have long suggested the first quarter of this year our TVB function or the player versus player function in which our first season has just ended a day ago and we are about to start our second season currently we are still improving and doing um in development to improve the gameplay and we are aiming to have a happy game that uses token economy of the blocking uh our wish on is ready to establish a game studio where we will develop a series of interesting games based on our game background thank that's it right now thank you.
Main Part
Q1: The traditional game industry is relatively mature and has formed a complete industry. At present, Gamefi has a disadvantage, how do you think Gamefi should attract more players?
A1: Yeah for that question actually games have been emerging every now and then and competition in the gaming industry as for projects is crazy we have a clear vision from discharge which is to establish a game studio again which develop theory something interesting games based are gaining background SAR crazy that continues to develop to make our game competitive in the future game updates and development SAR peace. Continue continuously done by the circus of development so just what I said available we recently had our new functions and will be launching our new functions this will highly attract new players and increase the activity of the players in the game. That's my idea thank you.
Q2: In my opinion, Gamefi is still in the exploration period. it is very hard to be popular, what do you think?
A2: 1. Well I don't get it is really started because I started talking other really stop service that that's quite a few reasons for on that question no we can name like twenty different reasons but I m going to focus on one thing and one thing on the user experience at this point the user experience taking the latest hottest kind of game find projects, for example, step one day have a wallet. Bolton the application so there's no need To Go to an external web page on your PC to approve approved every transaction or function you just simply confirm it's an APP by clicking OK or confirm I do call that progress. In a few months, that's not gonna be such a thing called could tell native user or traditional web to user so gonna be a web 3 or very old a teacher so what I would do as I was thought trading everyone the same as a human being that are attracted To Better user experience so when it comes to that is always about building something easier and easier to play nice.
Yeah you know you know began flying in a combination of game elements and fine fine animals and violence so we have To Bring gunfire to its true definition of Gang violence because you can find the game playing again become better in my time taking.
Q3. Axie Infinity is considered a top stream project in the Gamefi. what do you know the reasons for this success? what have you learned from it?
A3: Sure and I certainly don't get me wrong I certainly give the skies credit for what they are doing the skies and girls get it To Go and they are doing miracle workers their medical workers are doing a fantastic job to make a casual game into de most prophet ball entertainment in the city on this planet for one month prompt profit of the excellent quality have to exceed the entire last Vegas gambling industry. Which is amazing but in the victory world since I'm being so far alike and the future the early future is a false year though simply repeating what they didn't write is not going to do is not going to make your project survive um certainly we were for example for my project comma we do have support from y g g and all these best girls in the world but learning from their mistakes are also important for example they are kind of not centralize d enough to protect everyone internal e and not decentralized enough to protect everyone external e de only have eight servers. Eight north and I will call them server they only have eighteen hours and de go ahead and we are kind of learning from that. The mistake and for them because they have a light over two million players actually with an empty and all the exercise and things they can support this kind of incentive for longer period of time for a smaller project or any new project it's just impossible to do something so stable under the same equal system or economy model. We have to change the technologies you have to change a lot of things to make it wept for new or product so yeah well I learn so much from them and yeah it really gives this guy for creative for that yeah.
Q4. How do you think players should view Gamefi, as an investment product or a game?
A4: I think forgiving ruins a purple which is also the biggest feature of games. I think its wrong to look at games from an investment point of view this is a world of blocking and people's online behavior is valuable this is a reform of the entire game industry that can completely protect the interest of players and proposed the development of the entire game industry yeah thank you.
I must say that game five must have a balance of good gaining experience and affair return of investment this will make your players and investors stay longer in the game so so for us, the crazy you have many ways to earn but we see to it that we offer our players a happy experience as well and the same time the innovation that they're looking for in the future that's all thank you.
I totally agree because it comes down to the bottom game is still a service and I do not like the idea of games find that the definition of games is making financial products and a packet of a k I don't like that idea of to me it's more like that layer to the of the first letter one metal medals it is a most one of them ost Put in them for structure four on public chains and the metal of the system because people only spend their time and mostly three parts they would as adult and victory they entertain as using gain fire and structure and after that probably there got to have learned to earn or as a kind of apps to educate people And I do not see it as a pure investment for a long term I say a short term yes very much very nice before the long term is more about the incentive is going to draw this is may certain that it, for now, you spend like lets a hundred Dollar in again and again by the project you probably get back in a month and afterward its pure earnings but and the following year. Or two years they are the incentives are going to certainly drop and that kind of time because it is not owned by a centralized entity as a web three thing you are only apart of the game and if you spend like that hundred books again a hundred books end the game type project you probably get forty of the back and that's still good because of you. You are entertaining right and eventually, come to the bottom as though a service.
Q5: With the rise of Gamefi, more and more developers and small studios are integrating into this industry. How do users determine whether a Gamefi is valuable or not?
A5: I think it depends on the popularity of the game and the quality of the game itself the popularity of the game can tell us there how many people participate participating in it and the quality of the game itself knowledge pens on the game is open and transparent and den if the economics of the game is reasonable and players can get benefits from the game and it that profit is stable and den it depends on the investors and team background of the game which determine if the game Cooperate.
You know the what I think you know there are a lot of sings To Be considered and participating in a game file and what I think that need To Be considered is that in background game design and talk a num ix it's never easy to choose their right game sites to invest in it although always it's like a project that you need to do some research and homework. There carry to do research and study the projects so look for the team background if they are highly e engage in courting. if the team is technically quick, especially for the blocking world that is constantly evolving, and do they have a clear vision and a roadmap that makes a great impact in the future. As for the beginning design, I believe this is the package of being accessible being affordable with a minimal amount of investment and very low gas bees and being in over this as well and for the ah economics it should have a good distribution and supply of tokens as well that's my idea it.
OK yeah, I want we need to focus more about you know our design the character is beautiful and interaction in games more than any mistake again. We need to focus on the future including essential I have the effect that only project that one a lot of development want To Give up here so so Dis tin my idea thank you.
Sure I kind of agree with what would these guys are just said because looking at the team background looking at the product itself is certainly the very beginning of before what you do to him back into any kind of will free with free write any kind of Pro project that you kind of wants To Buy that again so does that you go to their social media like Twitter. For this course for telegram whatever but there is in so a track in the games that going for longer period of time a, for instance, m Mo RPG which is dying but with the open market it can sub like reservation and web three all and authorities and um esports these are built an with a better ecosystem with a better economic model for de token to sustainable a longer and game players to him kind of have alike more royalty and stick nothing to the game so and hyper-casual hyper castles and these are small games but if you keep building like small look hyper-casual game into one platform. It is cheaper it is smaller it is casual a whole lot of players that are going to join the crowd that's also a very good idea so I would offer a point of view that from a different perspective that what kind of game is going to actually last longer and that might be helpful.
Live Session
Q1: Moving: I would love to know how good game well I for if you are surely looking to invest project
A1: I would suggest you go to the telegram groups because usually for our project with more supporters they have telegram groups for example that I find out that except what we are doing in English we find I find out there are user-generated Turkish groups Ukrainian version groups. And quite a few languages in telegram groups which is not started officially there just user-generated so I would suggest you go to the local telegram group to find out if there are enough supporters for the second project but if you are just looking for a good game you look sings first who is producing a girl who is developing it its a trouble on Dave is certainly something. Explore more secondly telegram and you too will provide you with enough information to say what's the demo of the game is don't be like um what's it and how to play it and the basically One of the game and discord is going To give you a bit of the idea of what's the community I like and also it centuries the like for example participating and numb this earthquake group is airdrops and events all the time so yeah pretty much it's for a find out for yourself it's your own research I'm right。
Q2: I want to ask for a while that s you know I m helping you solve the problem of winning against a lodging officially and talking is always on how you can solve this problem
A2: Yeah they took infections they only were restored in near five developers oh honestly it took us a long time to come up with a solution I was planning to be about any inflation mechanism of we encourage players to join the ppt and only the winner's everyone sees you cast by pack previous. The market to review的supply and yeah that's the way we can increase the market price is above the balance between income and so if you have any more m ready can I as well. I should be regarding necessity inflation this somehow reflects the difference between professional game teams and teams when they are doing gamefi for star crazy our continuous action of releasing a for so through star is own game design and in numerical data design. The breath of the basic of teeth can be the record precious digging in the past six months the good stability and I think it's more on the innovation.
Winners list:https://docs.google.com/spreadsheets/d/1ISiZy7Af4jySIxGUsju_XYhW-Uq49lPYngI_hI_A8kg/edit?usp=sharing
Social Links:
TG News channel: https://t.me/KingData_News
TG Chat: https://t.me/KingDataEN
Twitter: https://twitter.com/KingData_com
Discord: https://dsc.gg/kingdata