Author: KingData
One of the hottest areas in DeFi right now is the intersection of DeFi and NFTs, also known as NFTFi. One of the biggest applications currently in the NFTFi category is in the field of NFT lending. This article will show you how to lend and borrow NFTs using the leading projects in the space.
Introduction to Lending NFTs
Such as the NFTFi ecological map researched and organized by Twitter blogger 0xminion. There are more than 300 projects on the list, covering different L1/L2 and NFT verticals.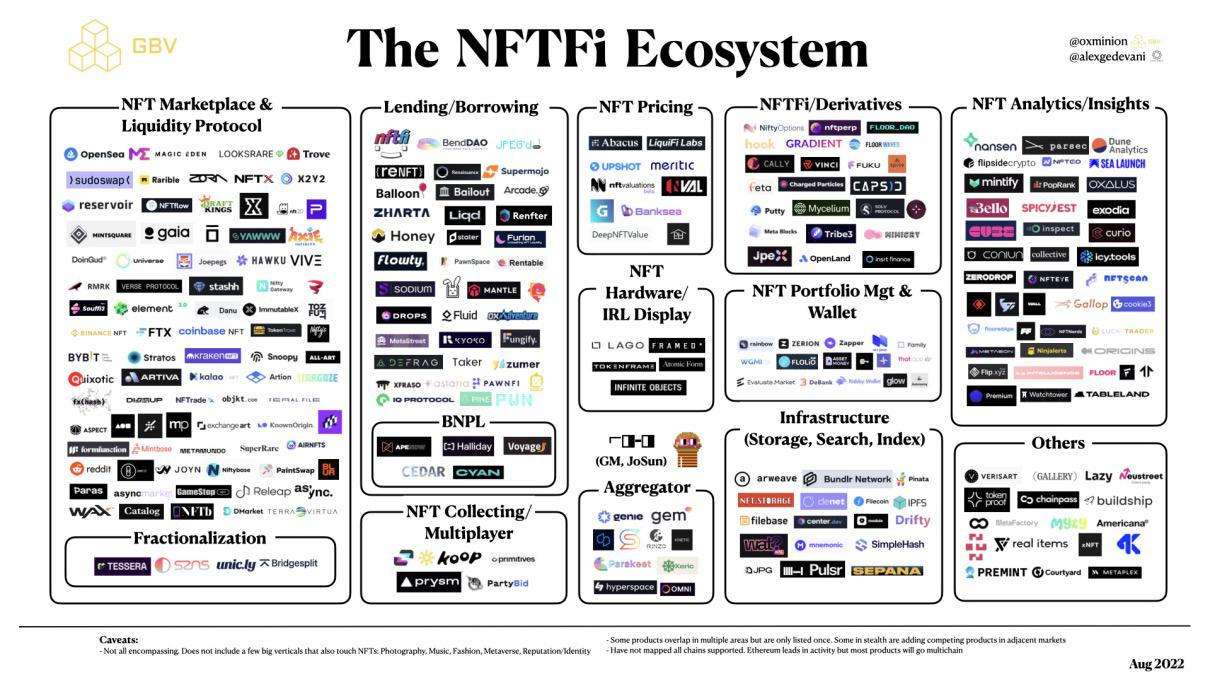 As can be seen from the figure, the NFT market and liquidity protocols account for 26% (including fragmentation). Followed by NFT Analytics & Insights accounting for 14.5%, NFT lending accounting for 4% (including BNPL), and NFTFi/derivatives accounting for 7.1%. Other verticals such as NFT portfolio management and wallets, aggregators, NFT tools/IRL display, NFT pricing, infrastructure (storage, search, indexing), NFT management/gallery, content creation, NFT collections/multiplayer majority.
There is DeFi, there is NFT, and then there is NFTFi, which is the intersection of the two fields. In the current NFTFi ecosystem, there are already various categories. The biggest now are NFT trading platforms and liquidity protocols such as OpenSea, LooksRare, Zora, NFTX, and Sudoswap. After all, people first need to buy and trade NFTs.
There are also NFT derivatives projects, NFT infrastructure projects, NFT pricing projects, and others. People are exploring the future of NFTs, so each of these areas is growing rapidly, but now the largest category of NFTFi outside of trading platforms is NFT lending protocols.
That said, NFT lending projects come in different shapes and sizes.
For this strategy, we will go through how to use the largest peer-to-peer NFT lending project NFTFi and the largest peer-to-peer NFT lending project BendDAO.
NFTFI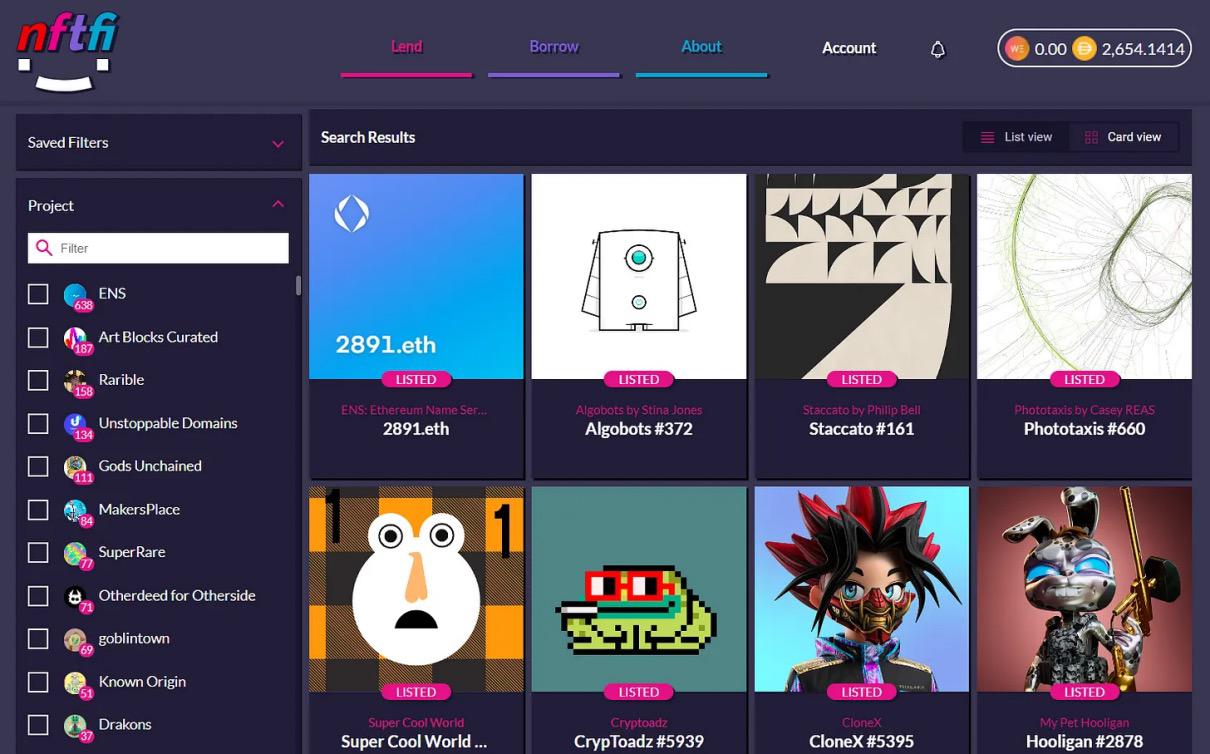 NFTfi is a P2P marketplace for NFT collateralized loans.
In other words, the project lets borrowers come up with expected NFT loan parameters, and cryptocurrency lenders can then choose to accept those terms on a person-to-person basis.
The advantage of this approach is that it allows you to fully customize and choose to accept your NFT loan parameters. The downside is that it can take a long time, if any, to find another party willing to take your loan.
How to lend on NFTfi:
1) Go to app.nftfi.com/lend/assets and connect your wallet
2) Click on the NFT loan offer you are interested in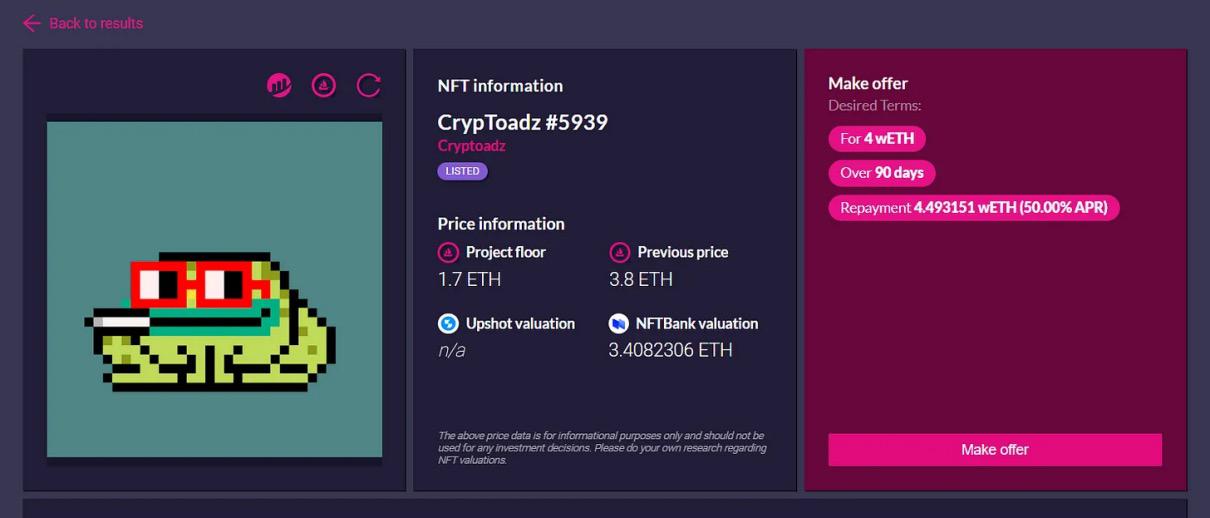 3) Go ahead and click the "Make Offer" button and choose to accept the borrower's suggested terms or customize your own terms (amount, repayment, schedule, etc.).
4) Next click the "Grant" button and use your wallet to approve the NFTfi to use your funds (this is a one-time transaction).
5) Then the wallet signs to confirm your loan proposal, and that's it. Your counterparty has seven days to consider before the offer expires.
How to borrow on NFTFI: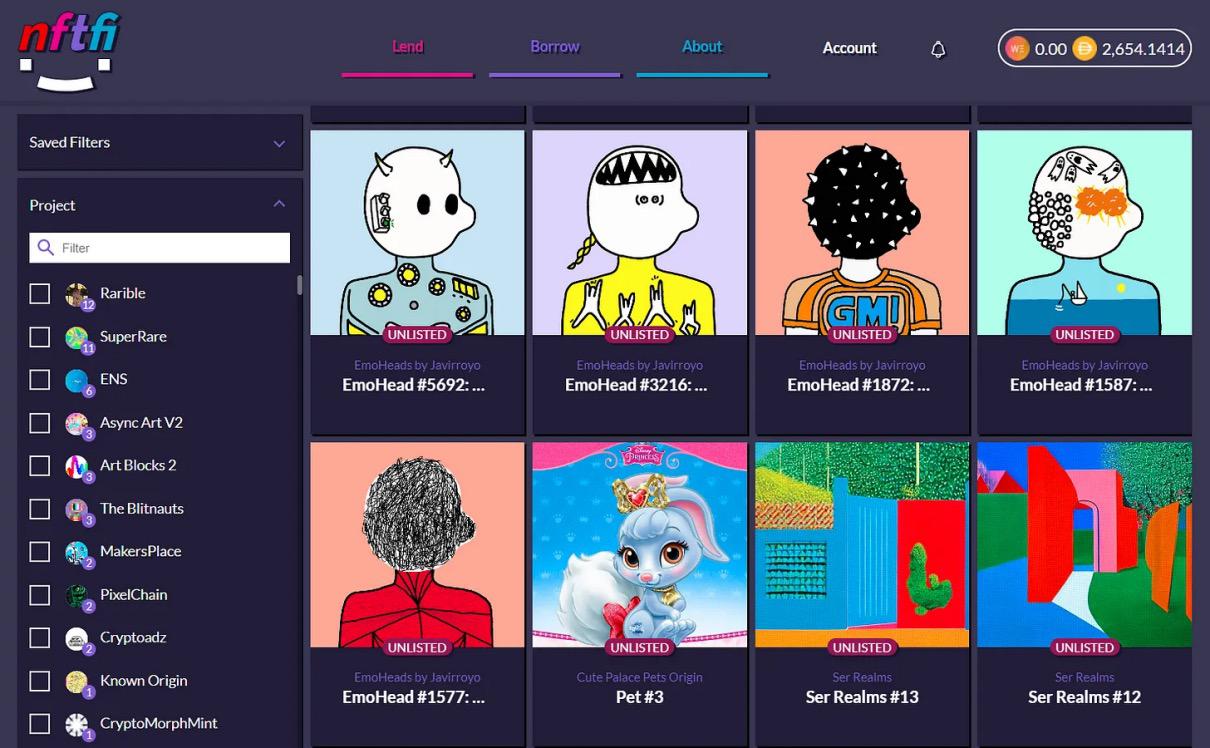 1) Go to app.nftfi.com/borrow/assets and connect the wallet.
2) Using the provided filters, find the NFT in your wallet that you want to use as collateral
3) In the next interface, specify the loan amount you want, loan schedule, interest rate, etc.
4) Then use the "List as Collateral" button to finish.
5) Wait for the lender who accepts your offer to complete the transaction.
BendDAO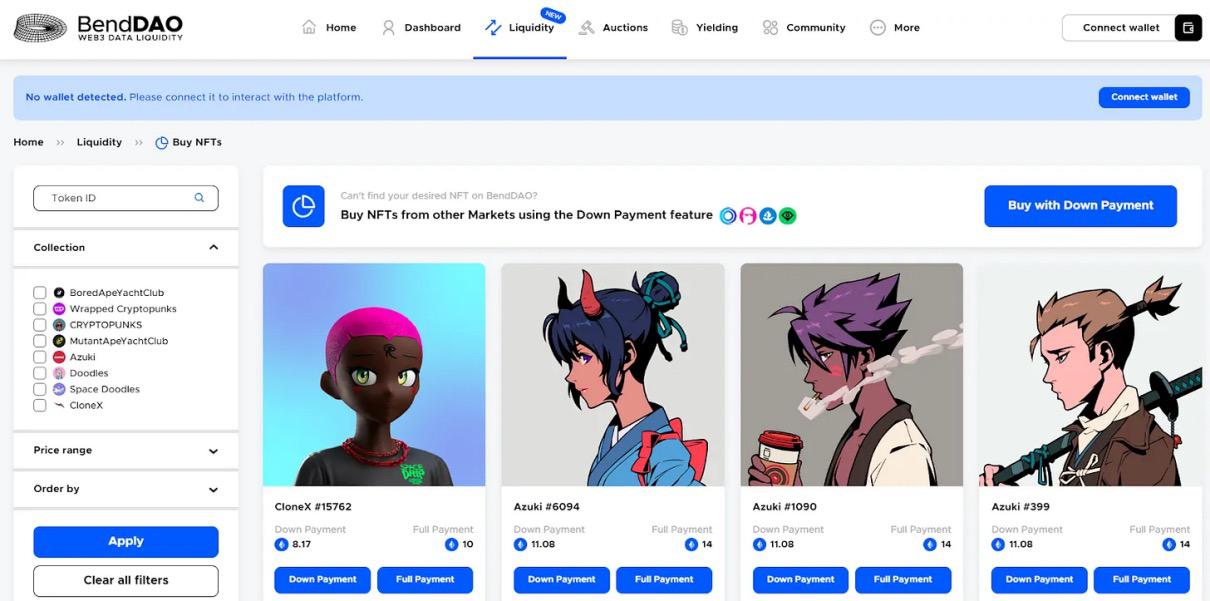 BendDAO is a peer-to-peer NFT lending protocol. In other words, depositors of BendDAO contribute ETH to liquidity pools to earn interest, and borrowers of NFT projects can then obtain instant NFT-backed loans through these pools.
How to Lend Your Assets on BendDAO:
1) Go to benddao.xyz and connect your wallet
2) Sign to verify your address
3) Click the "Liquidity" option, then click the "Deposit ETH" button
4) Enter the amount of ETH you want to deposit and press the "Deposit" button.
5) The wallet signs to complete the transaction, and then waits to earn income - the current annual interest rate of the loan is 8.5%.
How to borrow on BendDAO:
1) Go to benddao.xyz/liquidity/batch-borrow and connect your wallet
2) BendDAO currently accepts deposits from Azuki, BAYC, CloneX, CryptoPunks, Doodles and MAYC NFTs - if you have one of these and want to continue, click the "Deposit NFT" button.
3) The signature authorizes two transactions, one is to authorize the debt token and the other is to authorize the NFT
4) Enter the amount you want to borrow and press "Borrow ETH"
5) You can then repay your loan as needed through BendDAO's Borrowing Dashboard
NFTFi is just getting started
When Bitcoin and the first cryptocurrencies came out, you could send them from address A to address B, and so on.
Ethereum is a smart contract platform that enables digital tokens to be composable, interoperable, and used in a variety of different ways.
We see a similar trajectory from simple to advanced in NFTs. At first, you can basically only buy and sell NFTs, and while this is a start, it's the beginning of everything possible.
The rise of the NFTFi space in DeFi is starting to pave the way for a variety of more advanced use cases such as NFT derivatives, NFT lending, NFT pricing protocols, and others.
Today, NFT borrowing and lending programs like NFTfi and BendDAO make it easier for people to get funds with their ETH, or get NFTs by giving ETH.
These are early pioneers in the space, but in the next few years, I hope we will see more NFT lending protocols emerge, and they will become more and more user-friendly. Familiarity with the field now can be beneficial for future development.